Scattergrams, the ubiquitous x/y axis graphs that have caught on like wildfire over the last twenty-five years because of their inclusion in Naviance, MaiaLearning, Cialfo, and other online college counseling tools used by thousands of American high schools. Scattergrams purport to show a student's chances of admission at different colleges and universities by plotting previous students from a particular high school on an x/y axis graph based on such students' GPAs on one axis and their test scores (ACT or SAT) on the other.
Below is an example of a scattergram for a particular high school showing current students (and parents) at that high school how alumni from that high school fared when applying to University of Maryland College Park from 2010 through 2014.
Two images of scattergrams are included below. On the first one, from Naviance, please note that the scattergram plots the SAT on the x-axis using the old 2400 SAT scale; however, the SAT these days is scored out of 1600. Similarly, the first scattergrams's high school clearly plots GPA based on a 4.0 scale, but some schools' scattergrams will have very different numbers of the y-axis because scattergrams can have any sort of GPA scale on them (100, 20, 6, etc.) depending on a school's grading scale.
The second scattergram image is from Cialfo and captures data for Reed College. It at least shares whether the data plotted represents students who applied Early Decision vs. vs. Early Action vs. something else (which at Reed would be Regular), which some scattergrams don't share.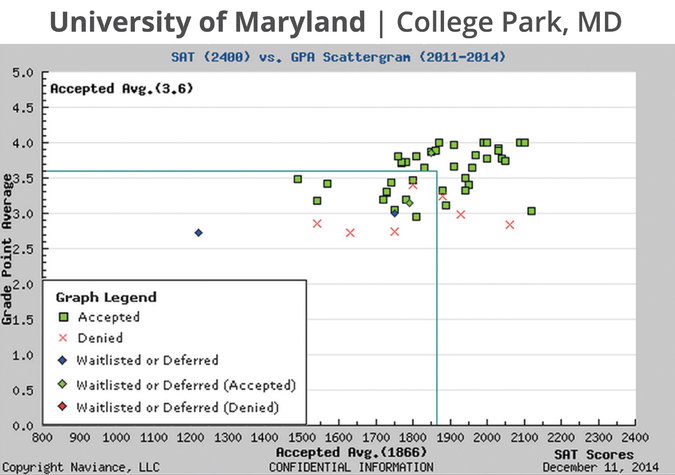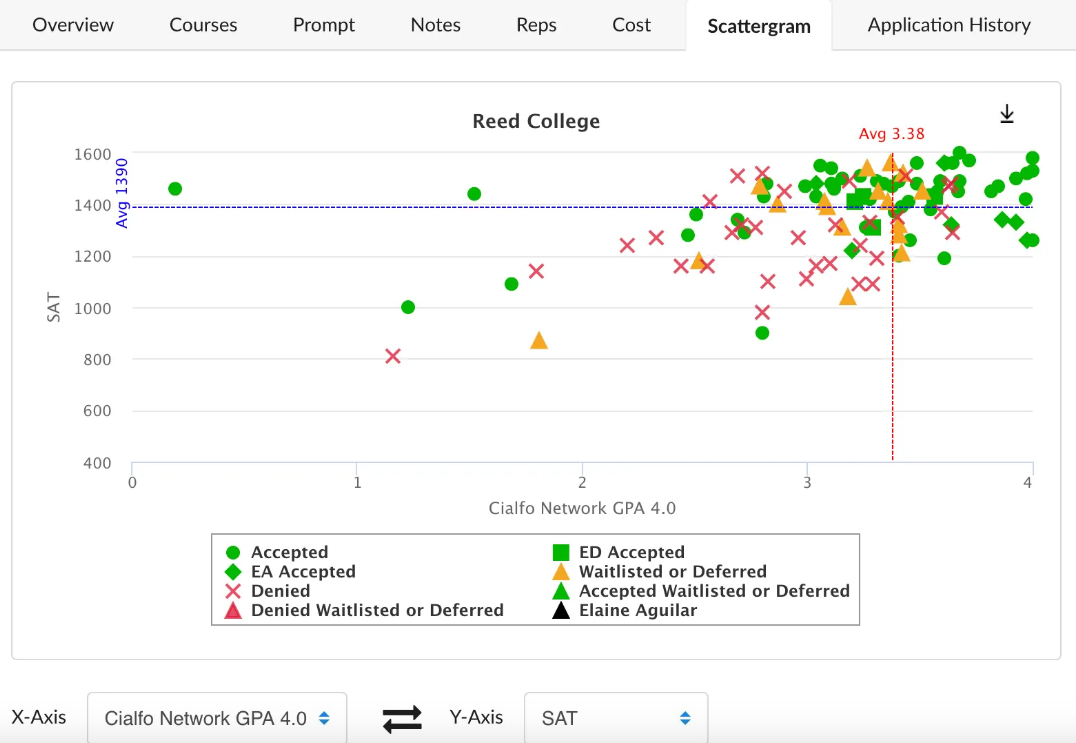 The typical student seeing the first of the two  scattergrams above assumes, if he or she has a 3.6 GPA and an SAT score of 1860 he or she is definitely going to get into University of Maryland College Park. Most of the rest of students with that combination of grades and scores would assume, after seeing the above scattergram, that Maryland is at least a huge safety college for them. After all, all students from this high school in the past few years who land in that GPA/score range got into Maryland, as illustrated by all of those green squares.
STOP RIGHT THERE!
The problem is a student with this GPA/score combination could easily get rejected from University of Maryland College Park for any number of reasons that a scattergram will not be able to display. The most common reasons scattergrams lull students into a false sense of security are as follows:
Many selective colleges get more selective every passing year, rendering antiquated past years' admissions statistics.
Scattergrams don't show the quality of past applicants' extracurricular resumes.
Scattergrams don't show the quality of past applicants' essay writing skills.
Scattergrams don't show past applicants' demographics (rich, middle-class, poor, black, white, Hispanic, Asian, International, etc.). College admissions officers for American colleges – especially selective institutions – often care quite a lot about their applicants' demographics.
Scattergrams don't show incredibly important (again, in the eyes of college admissions officers) background information about past applicants' beyond their demographics. Here we are talking about characteristics like an applicant's legacy status (Did a past applicant's mom or dad attend the same college?), athletic prowess (Was a past applicant a highly-sought athletic recruit?), and/or his or her parents'/grandparents' proclivity for giving money to the college on the scattergram in question.
Most high schools set their scattergrams to hide from current students/parents whether or not past applicants to the college in question applied Rolling Decision, Early Decision, Early Action, Priority Admission, and/or Regular Decision. That's important information! This is because colleges that offer different admissions plans/deadlines often have very different standards for each such plan/deadline. You can also forget about a scattergram showing whether a past applicant applied for and/or was accepted to the college for fall, spring, or winter term (if such varied options exist at the college in question).
Scattergrams don't show the quality of past applicants' teacher and counselor recommendation letters/evaluations.
Scattergrams likely don't account for whether or not past applicants submitted their ACT scores, SAT scores, both, or neither (in the case of test-optional colleges) to the colleges' scattergrams on which they are plotted. This is a huge issue in a college admissions environment where there majority of colleges continue to be test-optional.
Unless the scattergram's GPA axis is a weighted GPA, the GPA axis is not capable of communicating to students and parents the past applicants' curricular rigor.
Scattergrams don't show past applicants' grade trends in high school (colleges care so much about this).
Scattergrams show past applicants' final GPAs in high school, not their GPAs when they applied to college (usually in the beginning of a student's senior year). Senior slumps in the final months of past applicants' senior years often slightly (and sometimes greatly) deflate their final GPAs relative to what their GPAs were in October of their senior years.
Directors of college counseling (the leaders of college counseling offices) can be applicants' best advocates or worst enemies depending on whether or not these directors have written a strong and compelling high school profile and done everything else they can do to encourage particular colleges to accept their students. Scattergrams don't note when certain directors' regimes began and ended; therefore, in a field where many directors of college counseling only stay in their roles for a few years before moving on, a five- or ten-year scattergram could be capturing admissions statistics for students applying from a particular high school under very different college counseling regimes. Some directors write bang-up high school profiles (which are sent to all colleges to which students apply in a particular admissions cycle) and some don't. Sadly, at some schools, the high school profile is written and designed by the communications team and/or individuals in the admissions, advancement, development, head of school, principal, and or central office! The further removed from college counseling the writers of the high school profile are the more likely the profile will not provide college admissions officers the information they are looking for in a high school profile. Meanwhile, some directors of college counseling make calls for their students or their colleagues' students, others simply don't. Some are on a first-name basis with Ivy League admissions officers, some don't know any. Some act as PR agents for their students, others are real in their recommendation letters, which leads to such letters carrying more weight with admissions officers than those that only share glowing reviews. Scattergrams lull students and parents into thinking (just like point #1 above) that each student plotted on the scattergram had the same college counseling team behind him or her and faced the same college admissions rates from year to year. The fact is, high schools change and colleges change, and as a result, scattergrams fail at capturing subtle or quite large subjective changes to students' chances from year to year based on how high schools and colleges change.
In summary, so much of what colleges will ultimately base their admissions decisions on is NOT captured in scattergrams; therefore, don't use them as the end all be all when it comes to determining whether a particular college on your list is a Safety, Possible, or Reach. Any college counselor, student, or parent who tells you otherwise has no idea what he or she is talking about.
I frequently get irate parents telling me that I am too pessimistic about their student's chances at a particular college or university based on what the family sees on a particular college's scattergram on Naviance, MaiaLearning, or Cialfo. I remind them that I often know the back story on each applicant on the scattergram and/or that there are at lease twelve reasons why the scattergram is only part of the story – especially at the country's most selective colleges and universities. Sadly, this does not often calm the parents down, and as a result, a few parents hold months-long bouts of resentment towards me – usually until all admissions decisions are released in April, at which point reality sets in – for good or ill. With that said, I am happy when I have a student get into a college that I classified as a Reach that the parents and student thought I should have classified as a Possible or a Safety. It's my job to help turn all colleges on a student's list into offers of admission; yet, I need the student's cooperation and effort if I can make this happen. Sometimes that happens, and sometimes it doesn't.
Scattergrams are trustworthier for colleges that primarily base their admissions decisions on applicants' grades and scores only. Theses types of colleges were usually those that accepted over 50 of applicants and/or large state universities that asked for the perfunctory essay and extracurricular list but which didn't have the actual manpower to review these subjective aspects of students' applications. Such colleges simply defaulted to determining whether or not to accept a student based on his or her scores and grades. Yet, such colleges are increasingly rare because of the current trend of test-optional admissions that is sweeping the nation. Even in such cases where grades and test scores make of the majority of a college's admissions decision, a student who is quite deficient or exceptionally strong in one or more of the twelve areas listed above could easily become an exception to the rule that the scattergram seems to convey.
Bottom line: strong college counselors always explain this important, complex, and as you can now see, somewhat time-consuming information to students and parents. Such college counselors tend to lean towards being more conservative with their Safety, Possible, and Reach classifications for colleges on their students' lists than those college counselors who take a relatively two-dimensional approach (x,y axis, anyone?) to college acceptance/rejection prognostication. If you are a student or parent going through the college application process now or in the future, please remember to be skeptical of scattergrams. Though they have valuable data on them, scattergrams only capture some objective data, and they certainly don't capture the subjective strengths or weaknesses of past college applicants or their college applications.