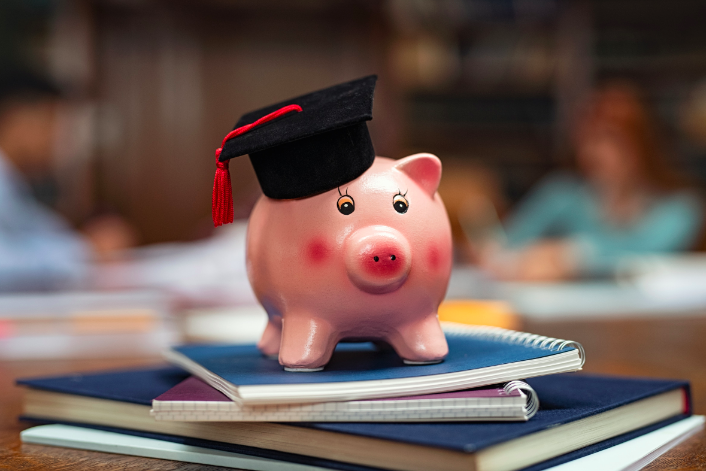 Already mostly unaffordable for middle-class families, college costs have gone up by about twenty-five percent in just the last ten years. For the past two decades, sticker prices for public and private colleges have increased more than the rate of inflation almost every year. The average cost of attending a public four-year college is $22,000/per year and $50,000/per year for a private four-year college. Yet, there are ways for families that aren't loaded to afford college in the United States.
Stay away from the 'student loan trap'
Student loan debt is the second-highest household debt category ($1.6 trillion with 45 million borrowers!); only mortgage debt exceeds student loan debt.
Still, college graduates annually make about $32,000 more than high school graduates on average, and on average over $1 million more in a lifetime. There can be a huge payoff for going to college, but how can students avoid taking out outsized student loans for their education? The key to avoiding the student loan trap is to make your "out-of-pocket" expenses as low as possible and take out as small of a loan as possible (ideally one with a very low and subsidized interest rate as well). This is particularly important if you don't qualify for some, any, or enough need-based financial aid, yet can't afford to comfortably pay the Expected Family Contribution (EFC) of the college you want to attend.
Assess your financial situation
For many colleges, the Federal government methodology determines if you qualify for need-based aid and how much. Expected Family Contribution (EFC) calculations are based on information parents/guardians are asked to disclose regarding their financial history on the FAFSA form for financial aid. A family earning $130K per year would generally be considered 'rich' enough to pay 20% of their annual salary toward college costs.
Find scholarship money at the source
There's a better strategy to help you reduce your out-of-pocket college expenses and that's by finding and comparing merit aid offers. The largest pool of non-loan money is available directly from colleges in the form of merit aid scholarships. Understanding how colleges award these scholarships requires a thoughtful strategy. Having one can help you reduce tuition costs by thousands, and even tens of thousand of dollars. Colleges award over $8 to $10 billion dollars in merit scholarships annually, which is the largest pool of money available to families who don't qualify for need-based grants.
What is merit aid and how does it work?
While mostly awarded to students who show academic excellence, merit aid is also awarded for other talents in music, art, or athletics. Merit Aid scholarships are used by colleges to attract students who can boost the applicant stats of a school. They're usually offered to students in the top 25% of a college's most recently admitted first-year class.
Because many colleges offer merit scholarships, you don't need to have straight A's or a 1600 SAT score to be awarded merit aid. Each school has its own top quartile stats.
Merit aid grants, unlike loans, don't need to be repaid. In most cases, there's no separate application process and colleges share award amounts in their acceptance letters. Most are renewable and you're eligible to receive them for four years, but it's important to check requirements and renewability. Often, you must maintain a certain GPA in order to continue to be eligible each year for the award.
How do you find merit aid?
Make a list of all the colleges you are interested in and find their common data set. Once found, you can apply top quartile data for your standardized test scores, but not for your GPA. You can go to the website of each college to find common data information or you can use the Common Data Set Initiative to find the information. A search engine called MeritMore allows you to search across schools to find and compare merit aid offers using your standardized tests scores and GPA.
What can you do with merit aid information?
First, check to see if your top schools may offer you merit aid. Second, compare aid offers from your top schools against each other. Third, explore other financial-fit schools that match your criteria, but may not have been on your radar. Finally, use merit aid comparison data to make informed decisions about colleges you can afford, the true cost of attending each college, and the total loan you may need to borrow.