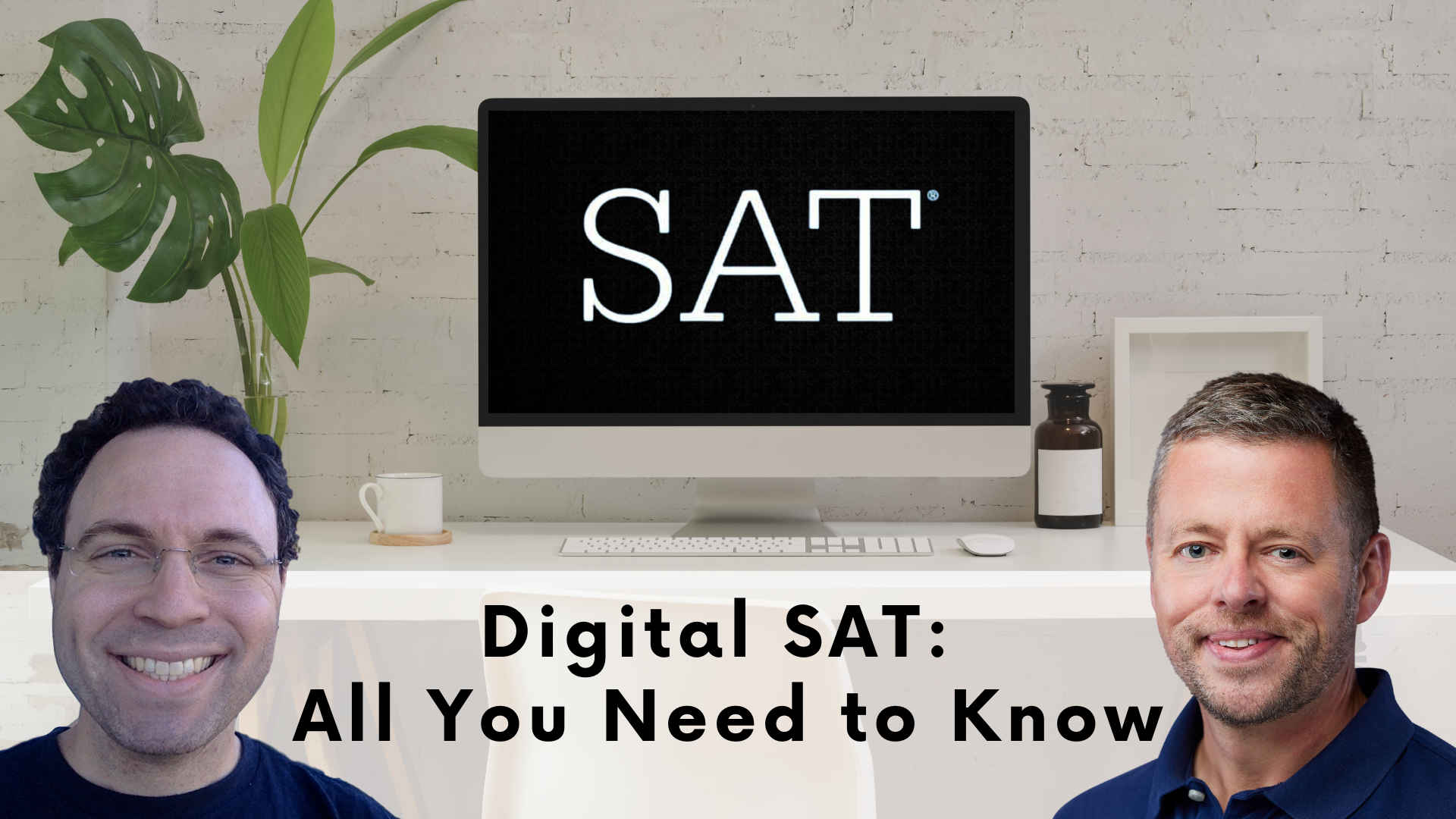 I'm excited to announced that on August 8, 2023 at 9:00 a.m. Eastern Daylight Time in the United States I plan to live broadcast here a deep dive conversation with test-preparation expert Brian W. Stewart, M.Ed., president of BWS Education, who is also the author of Barron's Digital SAT Study Guide Premium 2024, which is now available. Stewart has over 30,000 hours of direct instructional experience with a wide variety of learners from all over the world. He is the author of several best-selling Barron's books, and though we've already published valuable first impressions about the digital SAT, I'm eager learn from Stewart more about this new standardized testing experience and how it differs from the soon-to-be-retired paper SAT. I'll also ask Stewart to share what he knows about plans for a future digital ACT and related topics and to give his views on the overall current admissions and standardized testing landscape – including the test-optional and test-free movement.
To view the entire conversation live or after it takes place, click the video below or view it on my YouTube channel.
—
In response to the College Board's decision to make international SAT testing digital by 2023 and all SAT testing digital by 2024, Barron's, which is a leading publisher of test-preparation materials, announced earlier this year that it would be publishing a premium study guide for the new exam on August 1 – and August 1 has arrived.
This means the book, entitled Barron's Digital SAT Study Guide Premium 2024 (Barron's Educational Series, August 1, 2023), is now available, and having reviewed an advanced copy, I recommend it highly.
"Barron's has been helping students prepare for important tests for more than 80 years," says Angela Tartaro, director, Barron's Publishing. "We are confident that the SAT test change to a digital format is an improvement that will benefit test-takers. But here's one constant in a time of change: When students know what to expect on test day and have the chance to prepare and practice, they have the opportunity to do their personal best. Barron's has worked diligently to provide quality materials written by experts, and families know they can trust our decades-long track record of preparing students for challenging tests like the SAT. We take great pride in helping all students reach their full potential."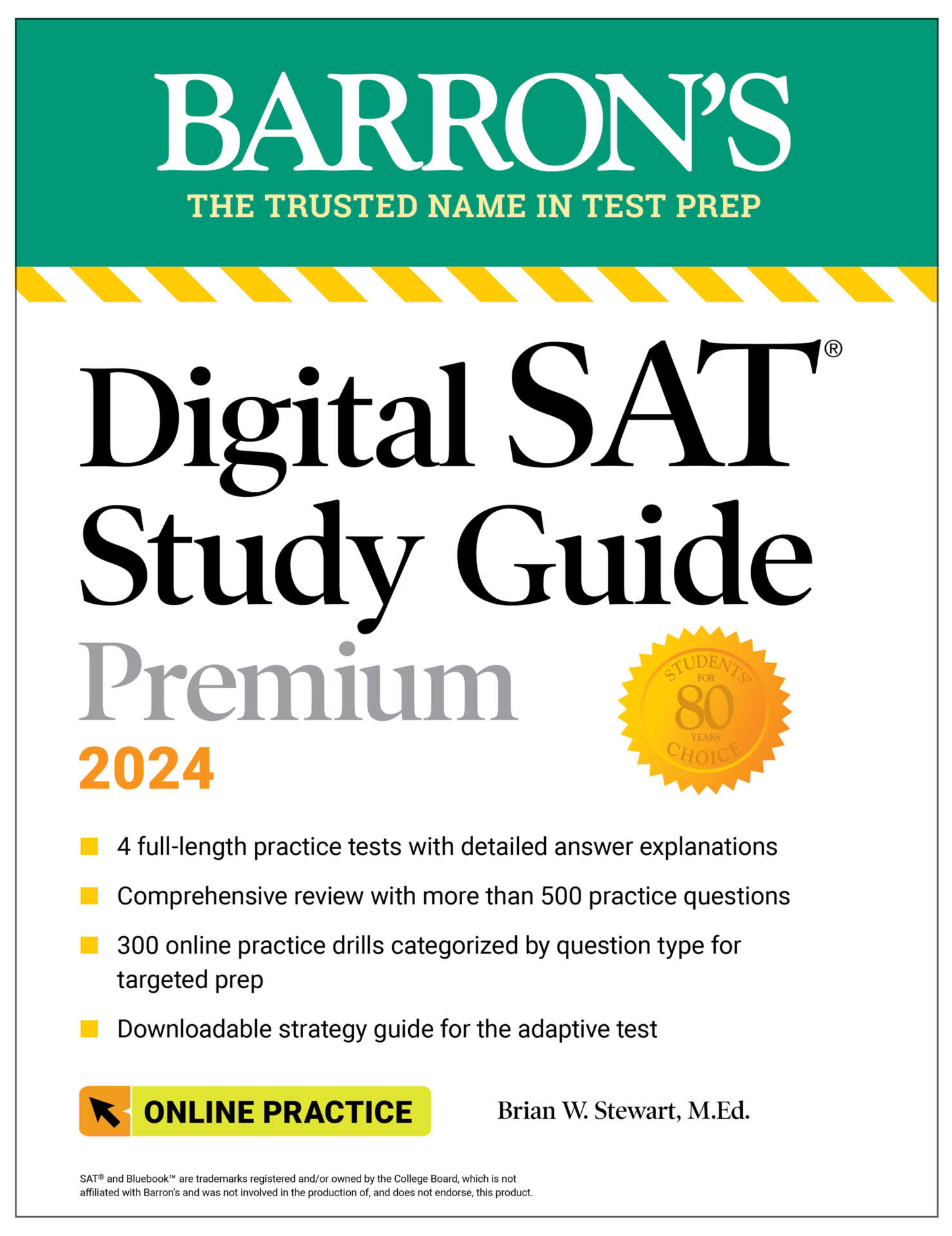 For those who didn't catch it when stated earlier in this article: the digital SAT is already in use internationally, and the College Board, publishers of the SAT, will transition American test takers to the digital SAT at the start of 2024. As a result, the time is now for American students in the high school classes of 2025 and younger to start seriously familiarizing themselves with the digital SAT. International students in the high school class of 2024 (rising or current 12th grade students) who still plan to sit for the SAT also need to get up to speed on the digital SAT as soon as possible if they haven't already done so.
In addition to the expert overview of the changes to the SAT, the book also includes updated guidance on test scoring methods that align with the new digital format, as well as advice on college admissions requirements.
"Colleges and universities are always making adjustments to admissions requirements, so it's vital for students and their parents to have the most accurate, expert, and up-to-date information," says Stewart. "For instance, some schools employ super scoring that takes the best section score from each time a student takes the SAT. The book helps navigate subtleties like this to maximize student performance and success."
Practice for the SAT has always been an important part of test prep, and this comprehensive edition — available in both print and ebook formats — continues this tradition. The book contains hundreds of practice questions, advanced drills for students aiming for scores between 1400 and 1600, detailed answer explanations for all practice tests and questions, and extensive vocabulary resources to prepare for words-in-context reading questions. The book also features four full-length practice tests, including one diagnostic test to assess skills and focus studying, and one print adaptive test designed like the digital SAT.
One of the most significant updates in this guide is the inclusion of valuable online resources. Each student who purchases the book will have access to 300 targeted practice drills with scoring and a downloadable strategy guide for taking the adaptive tests, which includes tips on using the tools in the digital interface, test-preparation calendars to organize study plans, ideas for dealing with test anxiety, and more.
Stewart is enthusiastic about the benefits of these new digital assets and the new SAT itself. "We live in a digital age and these changes to how the SAT is administered are what so many test prep experts have wanted for years. This book, with its best-in-class digital resources, will set students up for success on test day."
Barron's Digital SAT Study Guide Premium 2024 is available now. The current Barron's SAT Study Guide Premium 2023 will remain on sale through the final U.S. administration of the paper and pencil version of the SAT in December 2023.
SAT® is a trademark registered and/or owned by the College Board, which was not involved in the production of, and does not endorse this product.