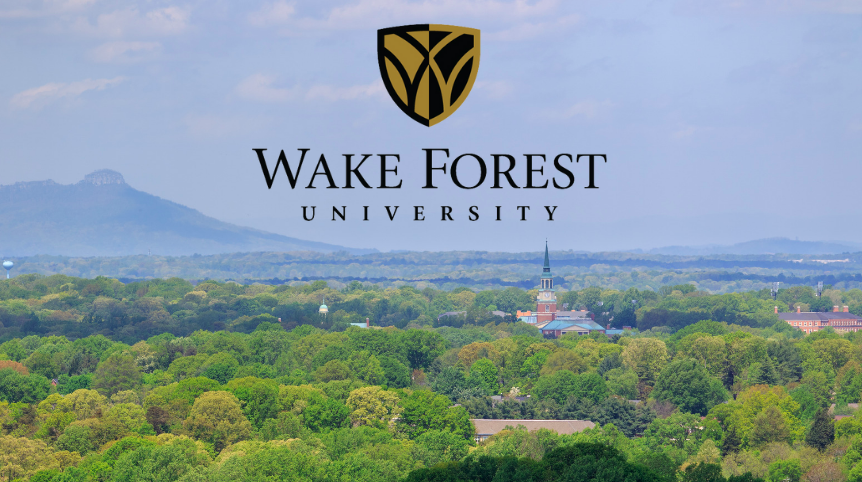 Considering how much the word "inclusive" is bandied about these days, Wake Forest University would, at first glance, appear to be taking a big risk by creating a new Early Action admissions option that will be the exclusive domain of only certain applicants based on their demographics alone. Yet, that's exactly what Wake Forest is doing while promoting its new Early Action admissions option as a tool to promote inclusivity.
On June 29, the day when The Supreme Court of the United States ruled that race can't be a factor in admissions decisions, Wake Forest University's President Susan R. Wente wrote, "We write to affirm that Wake Forest University will not waver in its commitment to creating and sustaining inclusive, diverse learning communities; our mission and values have not and will not change. We will continue to recruit and enroll academically qualified students of diverse backgrounds who seek an intellectual home at Wake Forest where they belong and thrive, and in compliance with the Court's ruling."
Just a few weeks later, Wake introduced a new essay prompt for first-year applicants to complete during the 2023-2024 admissions cycle that invites students to explain how their identity or lived experience will help them contribute to the Wake Forest community.
Now, Wake Forest has announced a new Early Action admissions option "specifically for first-generation students to provide an additional pathway of opportunity." Those who are not considered by Wake to be first-generation college students may not apply to Wake using this new Early Action option, thus making it the very definition of exclusive, which is why for the remainder of this article, and in order to differentiate it from traditional Early Action options that do not prevent certain students from taking advantage of them, Wake's new admissions option will be referred to as Exclusive Early Action, or EEA. Wake's new Exclusive Early Action applicants must apply by November 15 and will receive their admissions decisions by January 15.
For years, Wake Forest has met 100% of the demonstrated financial need of eligible admitted undergraduate students while also offering Early Decision I (students apply by November 15 and get their decisions by December) and Early Decision II (students apply by January 1 and get their decisions by February 15) application options, both of which are officially binding in nature (meaning a student must attend – in most cases – if admitted), and Regular Decision (students apply by January 1 and get their decisions in late March/Early April), which, just like its new EEA option, doesn't require admitted students to accept or reject their offers of admission until May 1. Yet, three pathways to opportunity, all of which are open to any and all potential applicants, were deemed insufficient to those making executive level decisions at Wake Forest. Why?
From Wake's perspective, offering Exclusive Early Action is a way to get "first dibs" on in-demand first-generation students and avoid having to directly compare a cohort of such applicants to applicants with the perceived advantages associated with being born to one or two parents with degrees from four-year colleges.
A critical paragraph of the June Supreme Court majority opinion, written by Chief Justice John Roberts, included this line:
"…universities may not simply establish through application essays or other means the regime we hold unlawful today…'[W]hat cannot be done directly cannot be done indirectly. The Constitution deals with substance, not shadows,' and the prohibition against racial discrimination is 'levelled at the thing, not the name.' Cummings v. Missouri, 4 Wall. 277, 325 (1867)."
US Census data from 2022 indicate that the percentage of adults age 25 and older with a bachelor's degree or more was 41.8% for the non-Hispanic White population, 27.6% for the Black population, 59.3% for the Asian population, and 20.9% for the Hispanic population. Thus, being a first-generation college student is a real, though imperfect, proxy for race.
Presumably, the upshot for students of applying EEA to Wake will not be learning of their decisions early, as many, though not all, first-generation students will want to wait to compare all of their offers of admission and financial aid. Rather, the upshot for students is that it is likely that the acceptance rate for EEA applicants will be higher than the acceptance rate for those applying in the competitive Regular Decision cycle, as most colleges that offer Early Action and/or Early Decision have higher acceptance rates for such options relative to their Regular Decision options.
Thus, for someone who really wants to go to Wake Forest but who doesn't want to commit to attending Wake Forest until he or she receives all of his or her admissions and aid decisions, Wake's new EEA option seems like a great chance to keep one's options open and increase one's chances of admission to Wake – and potentially elsewhere since it allows such students to apply to an Early Decision college or two and unlimited traditional Early Action (EA) colleges concurrently – all in one fell swoop. Of course, a lot of high school seniors would like to get in on this. But only some will be allowed to: those considered by Wake Forest to be first-generation college students.
Which brings us to who exactly Wake Forest considers a "first-generation college student." Colleges have not agreed upon a standard definition of the term, especially since two parents of a child may have very different backgrounds and not all children live with or have relationships with both parents.
Wake, in a statement announcing the new admissions option, and on its admissions site, defines first-generation as follows:
"First-generation students are those whose parents did not graduate from a four-year accredited college or university. First generation can also include the children of parents who earned a degree in another country, immigrated to the United States, and are underemployed in the U.S. Whether domestic or international, if the student resides with and receives support from only one parent, the 'first generation' classification is based on that parent's education."

Eric Maguire, Wake Forest's Vice-President for Enrollment Management, in response to an inquiry from the author of this article, further clarified that, "an international student can be considered first generation if their parents did not graduate from an accredited university or if they meet all three of the following criteria: earned a degree in another country, immigrated to the United States, and are underemployed. We would determine 'underemployment' based on the accepted definition as found in Merriam-Webster: 'having less than full-time, regular, or adequate employment.'"
In 2007, right before Wake Forest became ACT- and SAT-optional in its admissions process, first-year student enrollment at Wake was 84% White, 6% Asian, 6% Black, 3% Hispanic, and 1% Native American. In Fall 2022, first-year student enrollment at Wake was approximately 63% White, 11% Asian, 11% Hispanic, 7% two or more races, 6% Black, 2% unknown, and less than 1% Native American. Only time will tell if the latest adjustments to Wake Forest's first-year admissions process alters the racial or ethnic composition of its future entering classes or inspires other institutions to offer their own versions of EEA.