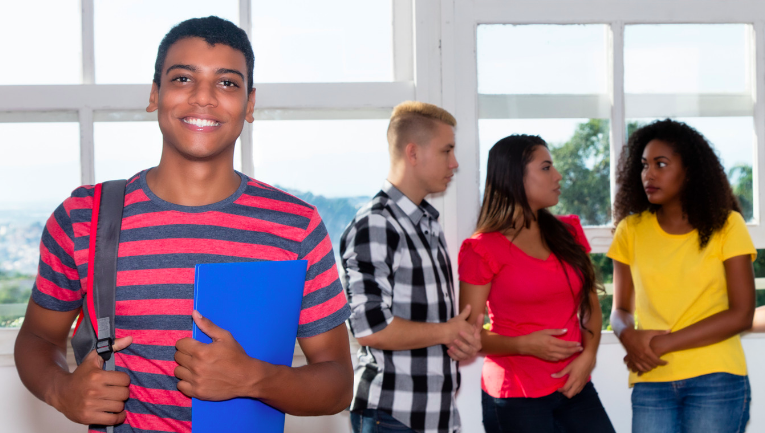 Conquering the international admissions process might seem like an insurmountable task with all the various applications, requisites, and factors to take into account. However, to help make the process less intimidating, let's break down the fundamental components of international admission and discuss some useful tips to streamline the process.
In this article, we'll explore the top trends in international admissions and give prospective students some guidance on how to embark on their study abroad journeys.
What Are The Key Differences Between U.S. and International Admissions?
Navigating the international admissions process can be like trying to solve a complex puzzle, while domestic students enjoy a  simpler application process. International students have to jump through a few more hoops, like providing academic records from accredited institutions translated into English and meeting certain English language test score requirements.
Beyond that, international students also need to show proof of financial support to ensure they can afford tuition and living expenses while studying abroad. It's a bit of a hassle, but it's worth it to join the global network of students seeking education around the world.
For international students hoping to attend a university, there are several extra hoops to jump through. Along with the usual application requirements, these students may have to provide proof of their language abilities, write more essays, gather more recommendation letters, and even participate in an interview. It's a lot of work, but for those who are determined to see the world and further their education, its well worth the effort.
In order to avoid any hiccups in the college application process as an international student, it's key to keep a close eye on the various requirements and deadlines set by universities worldwide.
By taking the time to understand the distinction between US and international admissions procedures, aspiring scholars can ensure a smooth application process and an opportunity for unparalleled academic growth.
What Are The Latest Trends In International Admissions?
The world of higher education has undergone a major transformation in the past few years, which has had a significant impact on international students' preferences.
Nowadays, there are numerous options available for students to choose from, making the selection process more challenging than ever. As a result, there are many factors that students need to consider before deciding on a university that suits their needs and aspirations.
Have you ever dreamed of pursuing a degree from a prestigious university, but couldn't because of your location or schedule?
Well, with the rise of online and distance learning options, that dream may now be a reality! As technology evolves, universities worldwide are shifting towards virtual education, enabling students to study and learn from the comfort of their own homes.
Imagine being able to attend lectures, complete assignments, and even earn a degree from a top-notch institution, regardless of where you are in the world. This trend is revolutionizing the way we think about education and making it more accessible than ever before.
Studying abroad has never been easier thanks to the rise of flexible study programs. Students can now travel the world while seamlessly transferring between universities. And for those who want the best of both worlds, hybrid programs offer a mix of online classes and traditional classroom instruction. The sky is the limit when it comes to exploring the world while earning an education.
In recent years, there has been a surge in the number of students who want to study abroad. This trend has emerged as more and more international students seek higher education opportunities outside of their home countries. As a result, a growing number of students are applying for international admission to pursue their academic dreams.
Nowadays, universities are going the extra mile to attract international students. They are rolling out the red carpet by crafting tailor-made scholarships, providing customized language classes and cultural exchange programs, and stepping up their game at education expos and other recruitment events. In short, universities are going all out to make sure international students feel welcome and supported.
By keeping up with the latest international enrollment trends, students can gain a competitive edge in the cutthroat world of university admissions. Armed with this knowledge, prospective students can make informed decisions about which institution to attend. As the stakes get higher and competition increases, it's important to stay ahead of the curve and give yourself the best chance for success. So if you're considering higher education, be sure to do your homework and stay up to date on the latest trends. Your future self will thank you.
Understanding Financial Requirements
Ensuring you have the funds to cover your international study experience is crucial. Not only do tuition fees vary between universities and programs, but living expenses can add up quickly. It's important to research costs beforehand and plan accordingly. Keep in mind expenses like housing, food, transportation, and other daily necessities. Remember, being financially prepared can make all the difference in your international study journey.
Most universities require proof of funds before accepting your application. This may include bank statements, documents from sponsors or donors, or evidence of scholarships or loans. Before applying, make sure you understand the specific requirements of your school or program.
Strategies for Demonstrating Financial Capability
There are several strategies you can use to prove your financial ability when applying for international admission. Scholarships and bursaries are a great way to reduce tuition and living costs. If you can't find any scholarships, you may be eligible for a loan from your home country or the university itself. In addition, some colleges offer work-study programs or allow students to work part-time to help pay for their studies.
Navigating the Financial Aid Process 
The financial aid process can be confusing and overwhelming. Learning about the different types of financial aid available and researching possible sources of aid are critical steps in the admissions process. For more information and instructions, contact the university's financial aid office.
Preparing for the Transition
When it comes to preparing for international admissions, there is a lot to consider. The transition to a new country can be overwhelming, but with the right preparation, you can make the process smoother and more enjoyable. Here are some tips for making the transition a successful one:
Get familiar with the culture, climate, and educational system of your chosen country before you arrive. Research the cultural norms and etiquette, as well as the school's grading system and classroom expectations.
Start networking with potential peers and faculty members in your new country. Make use of available social media channels and platforms to connect with other students and academics who can provide support during your studies.
Begin looking for accommodation early on so that you have plenty of time to secure a place to stay. Consider living arrangements such as hostels, university halls of residence, or off-campus housing.
Develop a budget for your time abroad so that you can manage your finances effectively and know how much you can expect to spend on things such as food, books, and transportation.
Securing Student Visas
When it comes to studying abroad, getting a student visa is no small feat. Navigating the visa requirements can be a daunting task, especially since each country's regulations are different. That's why it's crucial to do your research ahead of time to make sure you have everything you need. Depending on your level of education and your goals, you might need a long-term or short-term student visa. By understanding what kind of visa you need and how to apply for it, you'll be one step closer to embarking on an exciting educational journey abroad.
Want to study abroad? Applying for a student visa can be a daunting process, but with the right preparation, it doesn't have to be. To increase your chances of success, you'll need to submit materials like an acceptance letter and proof of financial ability. And don't forget about the interview! Be sure to practice your answers to common questions beforehand to impress the visa officer.
Tips for Prospective Students
When it comes to international admissions, there are several important steps prospective students should take. First, it's important to thoroughly research the school or university you're applying to. Be sure to read their entry requirements and application process schedule. If you need a visa to study in the country you are applying to, it is important to start the visa process as soon as possible, as it can take a long time.
When applying to universities abroad, there are a few things you should keep in mind to make your application stand out. First and foremost, it's essential to brush up on the language and culture of the country you're applying to. This may involve taking language classes or familiarizing yourself with the customs and social norms of the destination. Additionally, don't overlook the possibility of financial aid or scholarships – many universities have special programs for international students. So, ask around and see if you qualify for any of these opportunities!
To make your study abroad dream a reality, don't just focus on the logistics. Take some time to get to know the language and culture of your desired destination. This will not only help you adjust more easily, but also create better connections with locals. And don't forget to explore scholarship and financial aid options specific to international students – you never know what opportunities may be available to you!
Finally, make sure your application is complete and up to date. Keep track of all deadlines and be sure to include all required documents when submitting your application. By doing this, you can ensure that your application is processed quickly and accurately.
With a little bit of preparation and research, you can make your dream a reality. Follow these helpful tips and you'll be on your way to finding the perfect international study destination in no time. Don't let anxiety hold you back – start your journey today with confidence!
Embarking on an overseas education pathway can seem like a long and winding road with complex admission procedures. However, equipping yourself with knowledge about the nuances between US and international admissions and staying on top of the latest trends can ease the journey. Do some groundwork, seek out helpful sources, maintain a structured approach, and above all, take the initiative to be ahead of the game. With the right mindset and preparation, your global academic endeavor can be an enriching and rewarding experience.