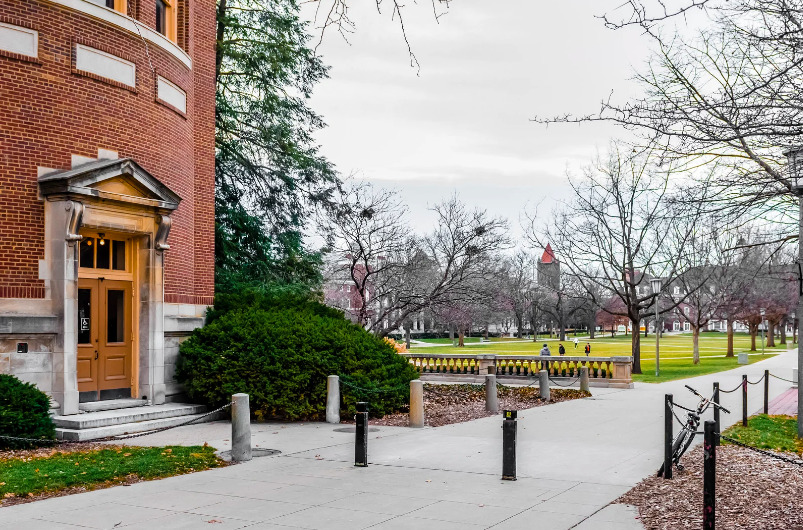 Let's face it, these days so much of the world of undergraduate admissions is smoke a mirrors. Which makes it particularly noteworthy when a big institution like University of Illinois Urbana-Champaign goes out of its way to be transparent about the fact that it's a university made up of many different acceptance rates, not just one top-line number. As this site has pointed out for years, many colleges like to cherry pick data to impress or intimidate, which leaves those in the know to have to explain there's often more to the story. If only more colleges behaved as transparently as University of Illinois Urbana-Champaign (UIUC)!
Acknowledging that it's first year on the Common App shook things up quite a bit, UIUC has now officially shared that received over 63,000 applications, during the 2021-2022 admissions cycle, which is a robust thirty-three percent increase over the 2020-2021 admissions cycle, which was UIUC's last pre-Common App. As a result, UIUC became much more selective statistically: it only admitted admitting forty-five percent of applicants during the 2021-2022 admissions cycle compared to roughy sixty percent of applicants during the 2020-2021 admissions cycle. In fact, Director of Undergraduate Admissions, Andy Borst, shared, "We came in over our original target, and more international students accepted their offer of admission and enrolled than what we anticipated."
UIUC now publishes its admit rate by college and for its Computer Science-related programs. Check out these numbers for 2021-2022:
College Admit Rates (First-Choice Major Only)
College of Agricultural, Consumer & Environmental Sciences: 42.8%
College of Applied Health Sciences: 45.5%
College of Education: 51.7%
College of Fine & Applied Arts: 49.5%
College of Liberal Arts & Sciences: 49.8%
College of Media: 38.4%
Division of General Studies: 48.9%
Gies College of Business: 27.0%
Grainger College of Engineering: 23.0%
School of Information Sciences: 68.1%
School of Social Work: 46.9%
Computer Science Programs
Computer Science: 6.7%
Computer Science + X Programs: 25.4%
In terms of acceptance rate by residency, another trove of data colleges routinely hide from the general public, UIUC is not shy about laying it all out there:
| | | | |
| --- | --- | --- | --- |
| Residency | Applicants | Admits | Acceptance Rate |
| Illinois Resident | 25,944 | 14,589 | 56.20% |
| Non-Resident | 21,216 | 7,749 | 36.50% |
| International | 16,097 | 6,016 | 37.40% |
While UIUC remains test optional, the university also revealed the percentage of applicants who submitted ACT or SAT scores by college. Over seventy percent of accepted Engineering applicants submitted test scores while fewer than thirty percent of accepted Education and Social Work applicants submitted scores. Wow! Even with these vast disparities, the middle fifty percent of accepted Engineering students earned between 1440 and 1530 while the middle fifty percent of Education students earned between 1220 and 1365 and the middle fifty percent of Social Work students earned between 1260 and 1420. Very interesting indeed!
Borst added, "We encourage students to apply for programs in which they plan to enroll, if admitted. We will only consider students for their first-choice major and their second-choice major, if selected. The Division of General Studies is intended for students who are open to exploring more than one major, with preference given to students who are open to exploring programs with capacity on campus. Students who are only interested in intercollegiate transfer once on campus into The Grainger College of Engineering or Gies College of Business should be encouraged to enroll at another university."
Also of note, due to University of Illinois Urbana-Champaign's increasing competitiveness, students are now only able to enter the university's computer science program as new first-year or transfer students. Students will not be able to apply to change majors into computer science once on campus, although they will still be able to pursue a computer science minor or apply to change majors into the computer science & X programs. To learn more about the differences between UIUC's computer science major and majors similar to it, check out UIUC's blog on the subject.
While impressed by all this valuable information, I'd also love to know the breakdown of UIUC's EA and Regular acceptance rates too. Yet, progress is progress, and more colleges that accept by school or program or that have differentiated acceptance rates by residency should follow University of Illinois Urbana-Champaign's lead in publishing data like this! Thank you Director Borst and University of Illinois Urbana-Champaign for all of your transparency!
Are you interested in University of Illinois Urbana-Champaign? Watch my team's visit to campus during which we spoke to real UIUC students about their thoughts on the university: