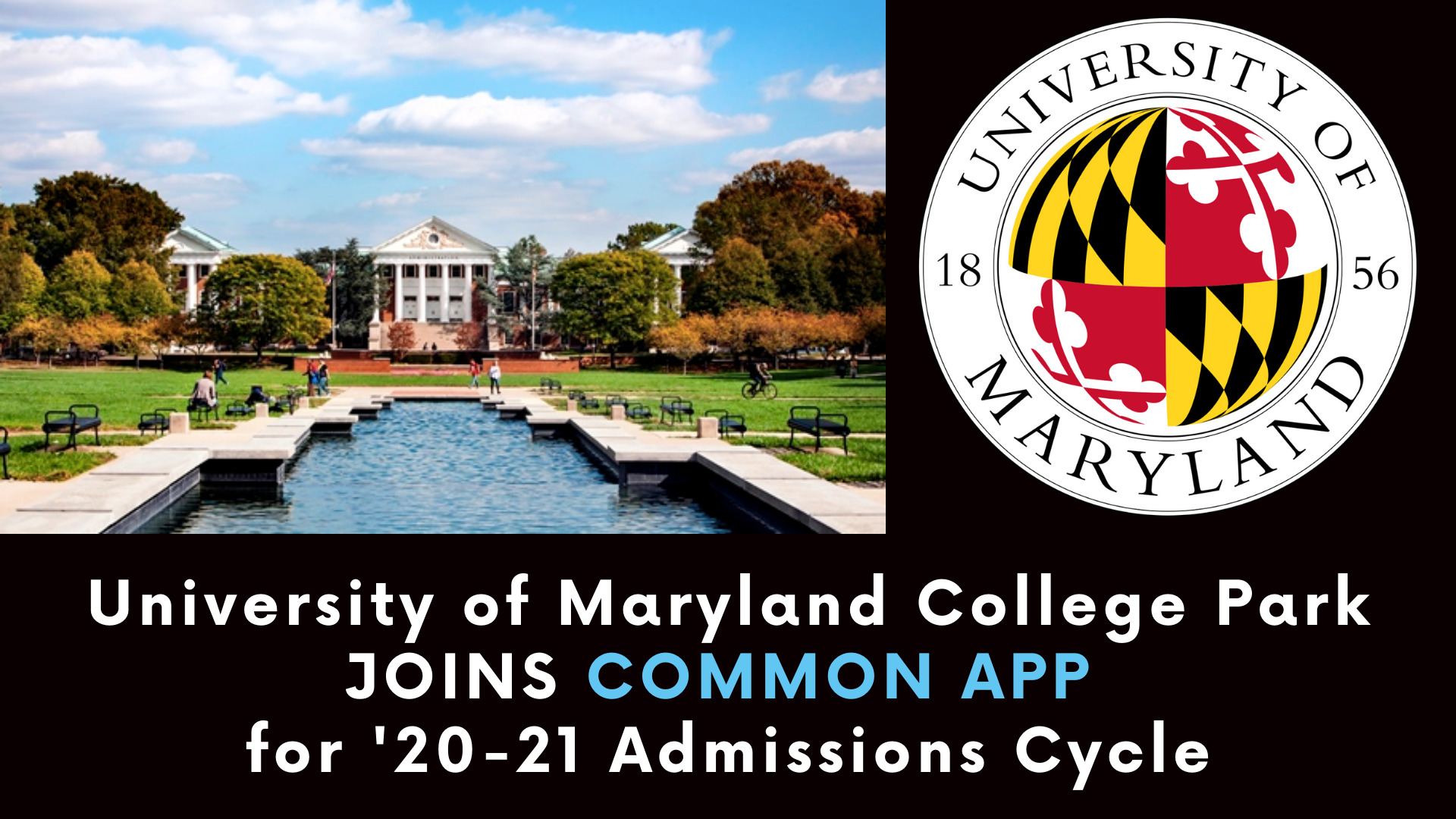 Better late than never. University of Maryland College Park announced today that it was joining the Common Application for the in-progress 2020-2021 admissions cycle, even though the Common App itself went live on August 1.
"We remain committed to expanding access to potential future Terps by offering them another option to apply through the Common App, in addition to the existing MyCoalition platform," said Shannon Gundy, executive director, UMD's Office of Undergraduate Admissions. "We are very proud to receive tens of thousands of applicants each year, and we constantly reassess ways to streamline pathways for a wide population of diverse and academically talented students to apply to be part of the Terrapin community."
Despite Maryland's kind and diplomatic words, the application offered by MyCoalition is a complete and utter disaster that needlessly ghettoized both Maryland and the Maryland applicant over the past several admissions cycles. As one of only two remaining colleges that were exclusive members of MyCoalition (the other being University of Washington in Seattle), Maryland had been making its applicants endure the process of creating an account on a portal that was the opposite of user-friendly and the antithesis of intuitive. It's actually pretty amazing Maryland got as many applications as it did in the past few years considering its exclusive relationship with MyCoalition.
"The diversity of our membership helps us forge a direct and unambiguous path to a viable future for all students," said Jenny Rickard, President & CEO of Common App. "Through membership with Common App, University of Maryland has demonstrated a shared commitment to pursuing access, equity, and integrity in the college admission process. Thanks to our members, all students have the opportunity to easily apply to the college or university that will help them achieve their best future."
Yada, yada, yada. The words of a true monopolist. The Common App, with nearly 1,000 member colleges, just put the final stake in the heart of MyCoalition; the latter is going to die even sooner than most observers expected. What's the point of MyCoalition now unless you are applying to U-Dub? Will it be far behind UMD in joining the Common App? So much for "promoting access and affordability" (the catchphrase of the Coalition App when it first launched) when today many colleges are just trying to survive the pandemic by turning to the Amazon of college admissions (the Common App) to pump up their application numbers when admissions officers have been marooned at home.
Expect Maryland to see a huge increase in first-year applications this fall, which means if you are serious about getting in, you must apply PRIORITY admission while not expecting what got students into Maryland last year will be enough to get you in this year when the university could see thousands of more applications than it has in previous years (this number may only be tempered by the ongoing pandemic, which could reduce serial applying from other quarters).
The Maryland announcement comes after other southern state schools, including Clemson, announced earlier this year that they were joining the Common App for the '20-'21 admissions cycle.