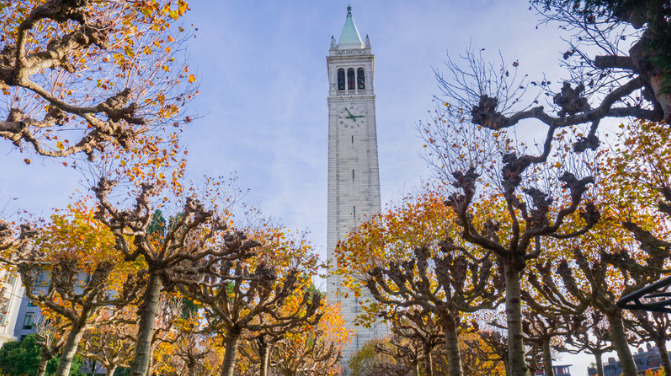 As we head into a new admissions cycle, University of California, Berkeley is announcing some changes in how it will consider applicants.
UC Berkeley is joining the rest of the UC campuses in allowing students to select an alternative major on the UC application. The university encourages students to take advantage of this option, especially if they have a second-choice major they're interested in. UC Berkeley's advice remains that students should select the major they are most interested in as their primary major because the university will only guarantee a review of the primary major, while alternative majors will only be used if space is available, for example, as the university considers available space during the wait list process.
In addition, first-year applicants admitted to one of the twelve high-demand majors in the College of Letters and Science will be guaranteed a space in the major. While this will not be a direct admission to the major, the process to declare will be simplified and space will be held for them contingent on certain requirements. Students interested in a high-demand major are encouraged to apply for it on the application, which gives them the best chance of declaring that major. Students who do not select a high-demand major can apply to declare after enrolling at Berkeley, but it will be through a comprehensive review process directly with the major department.
Meanwhile, any student interested in completing a double major will be limited to one high-demand major in the College of Letters and Science. Students who are interested in more than one major are encouraged to add the high-demand major as their primary major on their UC application. More information related to these changes will be posted on this page in the coming weeks.
This news comes as students are encouraged to start their UC application for fall 2022 this month (August), including entering personal information, self-reporting their courses and grades, and drafting their Personal Insight Questions (PIQs).
Like other UC campuses, starting this cycle, the application submission period for UC Berkeley begins on October 1, and the deadline is November 30. This gives students a larger window to submit their applications, as in previous years the application submission window only lasted for the entire month of November. Once the application is submitted students cannot make changes to the application, so they should plan accordingly, and of course, the UC system does not offer Early Action or Early Decision.
Finally, UC Berkeley also has shared news for prospective transfer students. Starting fall of 2023, participating UC Berkeley academic departments will pilot a direct admit to major program in Berkeley's College of Letters and Science for transfer admits. There will be twenty-seven departments participating in the program including four high-demand majors: Art Practice, Computer Science, Data Science, and Social Welfare.
On the UC application, when selecting the major, the portal will inform students that they are applying directly to the chosen major. If an applicant is admitted to a major participating in this program they will not have to go through the process of applying to or officially declaring their major during their first semester on campus. Transfer admission and major declaration procedures will not change for majors who are not participating in this pilot program. More information will be posted on this page in the coming weeks as details are finalized.
All of these updates come on the heels of an unprecedented year that included a record number of freshmen applicants to UC Berkeley (over 128,000 applicants) and a court ruling that threatened to cap its enrollment numbers. Even so, the selective Bay Area university offered over 19,700 freshmen and transfer students admission.