After applying ED to Tulane, my first two students in the Class of 2021 received their offers of Fall 2021 admission this week. Thus, around these parts at least, College Acceptance Season has officially begun!
With the bulk of Early Decision and Early Action notifications set to be released in December, now is the time to determine what you will buy your special someone (maybe even yourself) who hopefully will be getting into college real soon (if he or she hasn't gotten in already). While most Early Decision and Early Action acceptance notifications coincide with the height of Christmas-Hanukah shopping season, this year, to mark getting into college, you really don't want to give simply a fruitcake or a Rudolph sweater. You want to make your gift college acceptance-centric.
So, go on and surprise your special someone or treat yourself with gifts that mark the occasion of getting into college and celebrate college life in general by browsing through the 2020-2021 College Acceptance Gift Collection presented by admissions.blog.
A bit of a back-story: for nearly a decade I sent acceptance gifts to my students accepted Early Decision and Early Action at their first-choice colleges, and these gifts' massive popularity got many people both near and far asking, "Where did you think of that?" or, "That's the perfect gift for my future Terrapin (or Gator, or Bruin, etc.), how can I get my hands on more just like it?" So, several years back, I decided to open up admissions.blog's online gift shop designed specifically for your future or current college student.
Gifts detailed in the gift collection run the gamut from college apparel to dorm safety products. No matter your budget or needs, we've got the perfect college-themed gifts that are fun and practical.
So, what are you waiting for? Start Shopping below!
Congratulations on getting into college Rolling, Priority, ED, or EA!
Represent with or Protect your Tech (and this year, life!) with College Pride!
Skinit makes some of my favorite phone cases and laptop, AirPod, PlayStation, and Xbox skins around. What's great is that on some of these items you can not just find styles that match your personality; you can also find designs that flaunt your college colors. Below are some examples of some of my favorite skins or cases.
This year, with a plague all around us, we've added a way to show college pride while covering your face. FOCO and Original Retro Brand make some face masks that future college students will love even as they gasp for air.

In the same vain, it's also important not to misplace your technology and charge your gadgets regularly. I love this all-in-one bamboo charging station by NEXGADGET because it's compact, which is perfect for a dorm room and it's also quite stylish.
Protect Yourself!
Sad to say, college dorm showers are gross! Showaflaps make my favorite antibicrobial flip flops for your (hopefully) daily showers while on campus.

At many college campuses it also gets quite cold in the winter; therefore, how about some house boots to keep your feet nice and warm during your first winter on campus? Hanes makes my favorites in this category, and their unisex bad boys double as awesome dorm room slippers. Added bonus: no-slip!

Keep the Peace in Your Dorm Room
They say that good fences make good neighbors. In the context of a dorm room, good room dividers make good roommates. Sometimes we all need a bit of our own space, and MyGift makes my favorite dorm room divider because it can also double as a chalk board.

Look Good On Campus
While it makes the most sense to dress for success during the school day and while in class, once nighttime rolls around, strip down to a graphic tee that showcases your sense of humor. My favorite pop-culture inspired, random, college-themed, and all around fun t-shirt designs that are sure to grab the attention of fellow travelers in your dorm, at the library, or in the dining hall are below.

Look Good In Bed
Get your head out of the gutter! When it's time to go to sleep or simply nap, there is no need to do so in a drab quilt. You should be able to snuggle up in your college colors, and Dormitory101 makes the very best double-layered, double-sided blankets made from the softest material you've ever felt – and they're easy to take care of. No pilling. No extra care instructions. Just the comfiest, coziest fleece that will last years after graduation.
Congratulations on getting into college/university!
Parents, congrats – your child is going to college!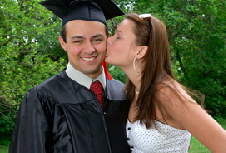 Students, great job! Now, let's party!