I'm Bob Poulsen, an Oregon parent of a high school senior.  While researching colleges, I couldn't find an efficient web tool to display US colleges on a map.  So, being a web designer, I built one!
Let me show you some of the features of College Overlook, my new free web app.
After first viewing a map of all US colleges awarding Bachelor's Degrees — over 1,700 according to the US Department of Education — accessible filters can then be applied to include or exclude groups of colleges based on size, acceptance rate, governance (public/private/religious), Common App acceptance, and more.  That way you can map only the institutions that interest you most!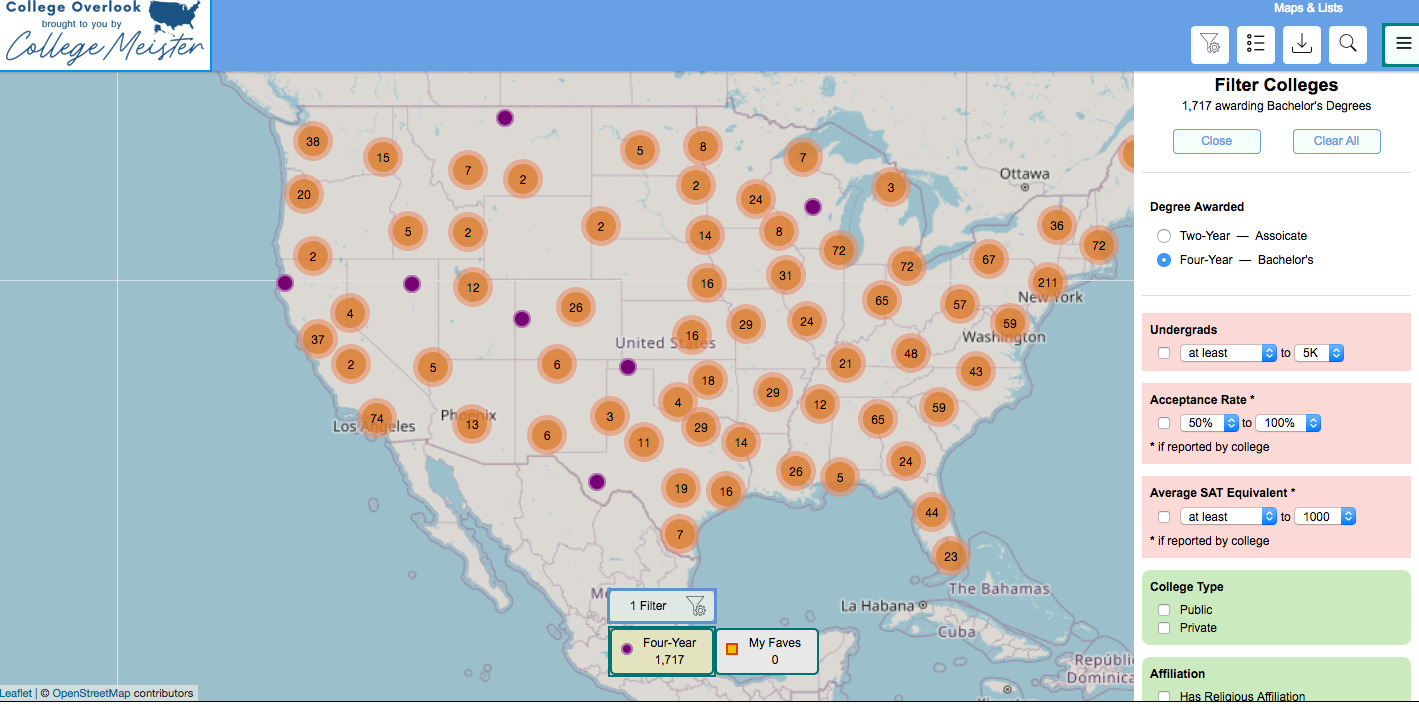 Now zoom the map to your desired geographic area, and click on some colleges.  You'll get a lot of useful data, all provided by the College Scorecard from the US Department of Education.  For tons more additional info click to view College Scorecard directly in a new webpage to examine fields of study, average annual cost, student body demographics, graduation rate, and similar data.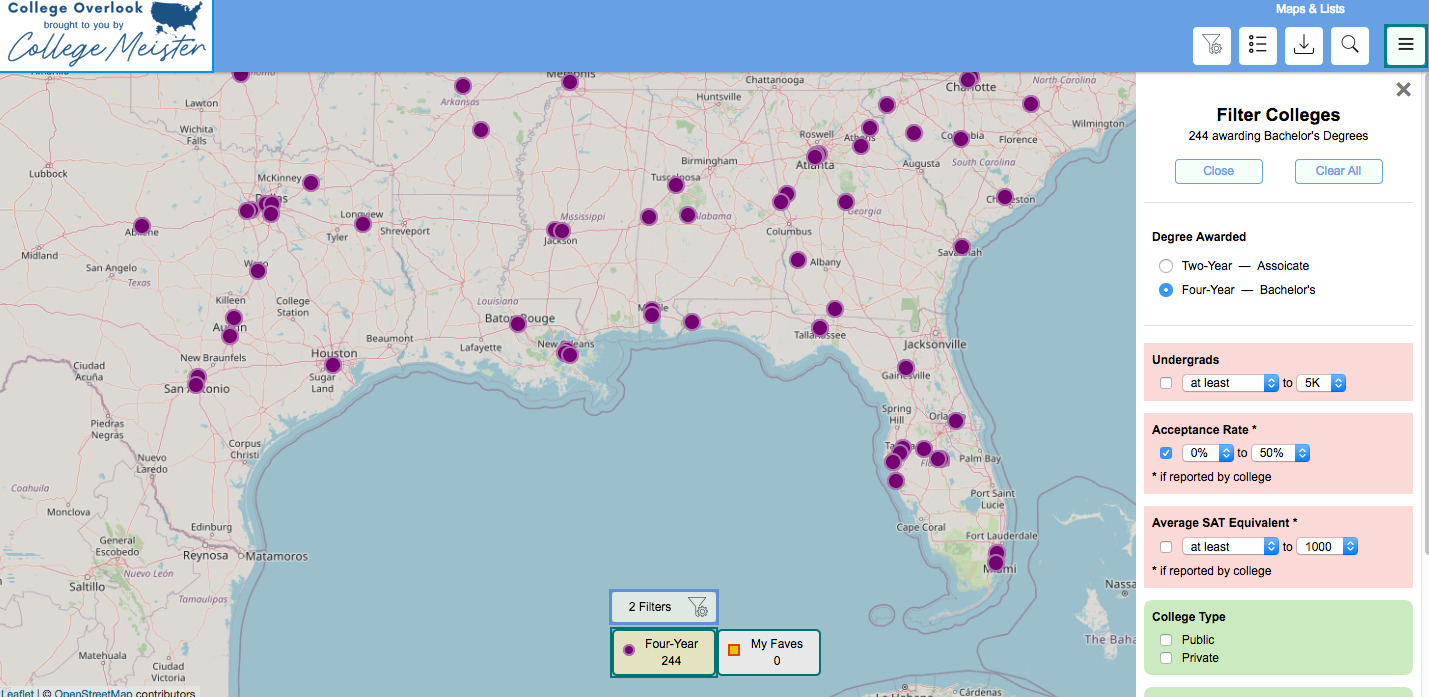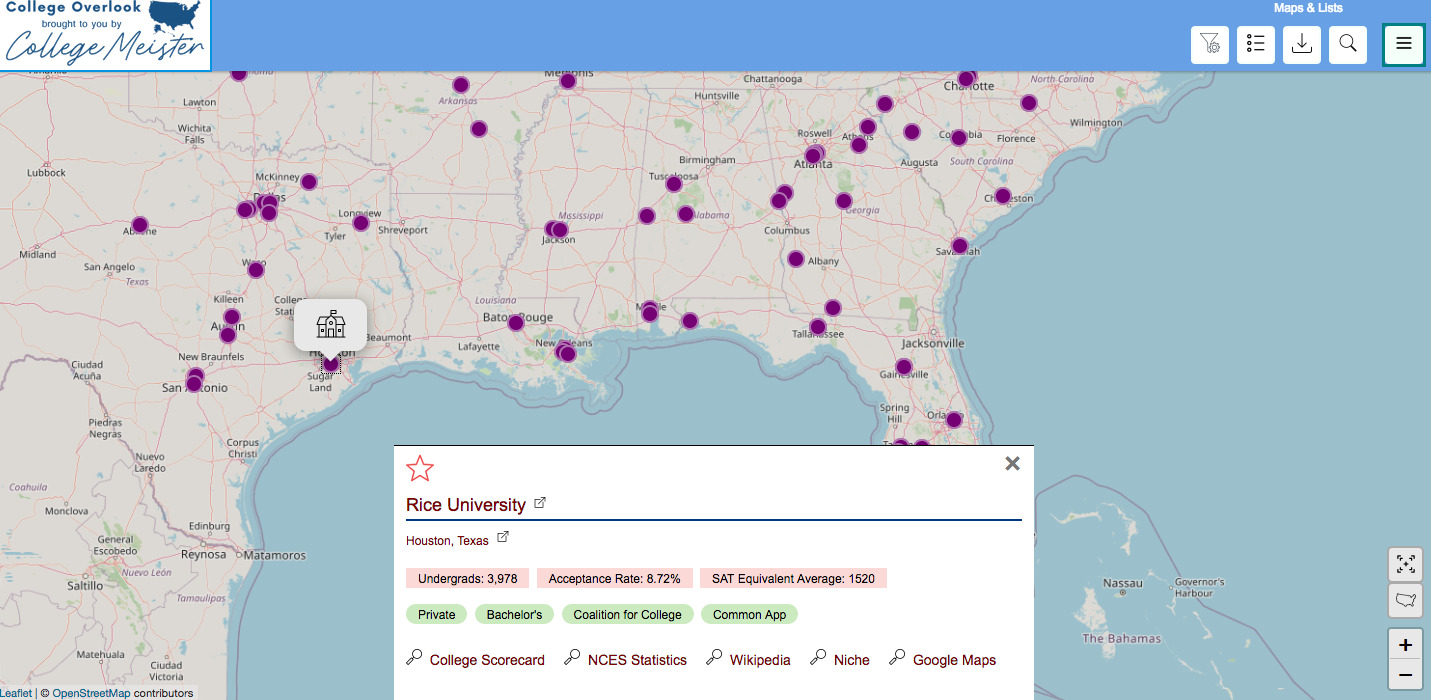 For even more in-depth research into a particular college, click the easy links to open Wikipedia, Google Maps, Niche, and National Center for Education Statistics.  You're sure to find some relevant info to help you decide if that college might be for you.  You can even click to get the Wikipedia data for the city itself, to help evaluate the larger environment of the college you are considering.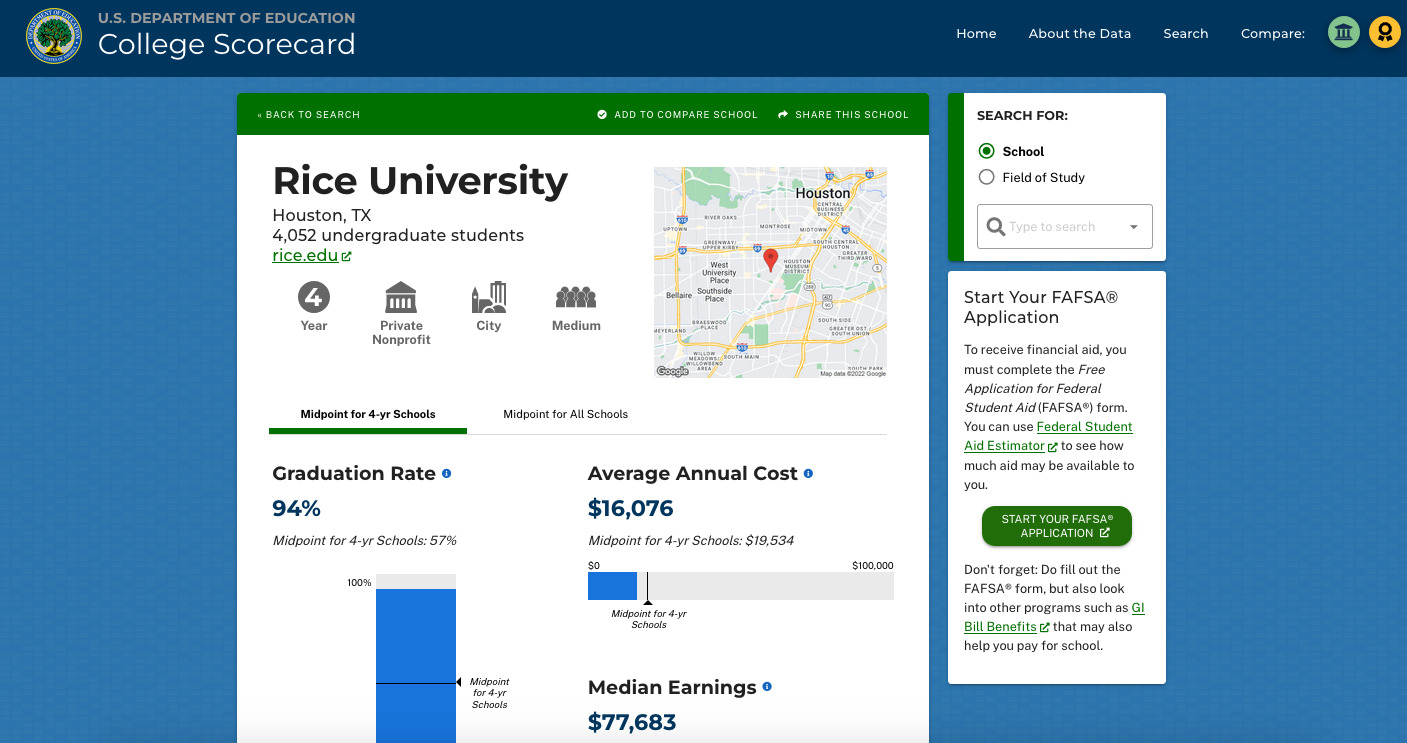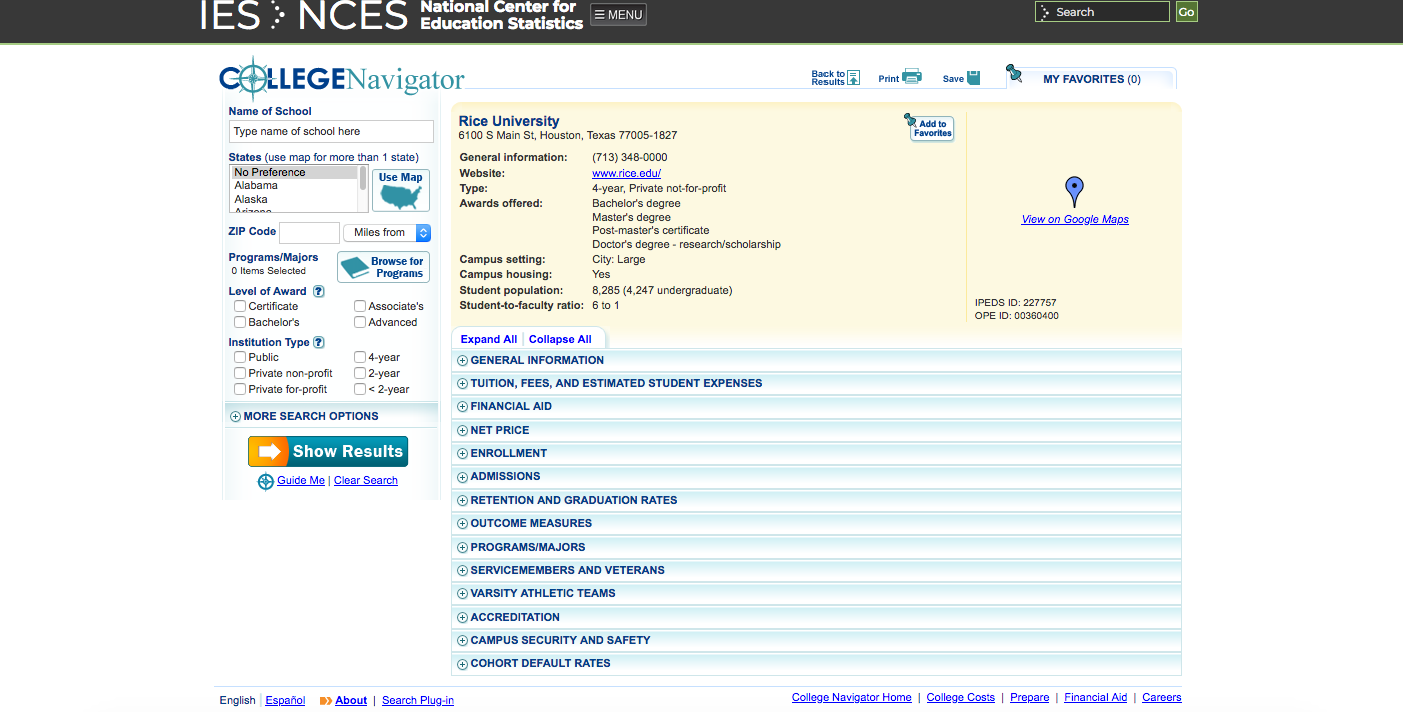 When ready, start building a list of potential colleges.  Click a college to research, and if you like it click the "Star" to set a favorite.  You can mark up to forty favorites.  A menu option shows you all your favorites in the form of a list, which you can also sort by number of undergraduates or acceptance rate.  Add or delete colleges anytime.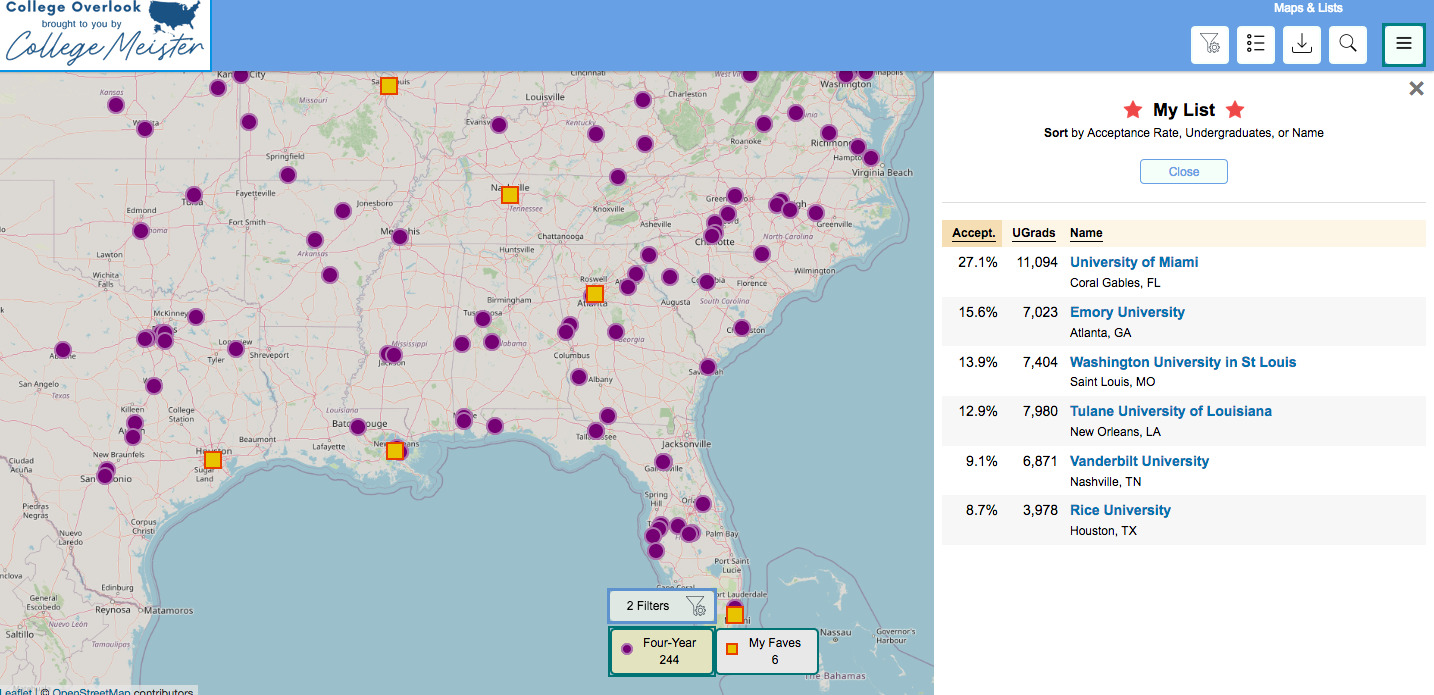 To save work for later, click "Save" (the download button with the arrow facing down) and you will get a unique URL that references your list of colleges, and your most recent map view.  Set a bookmark, or share your unique link with others via email or social media.  If you share this link with yourself, you'll be able to view your work from any device, any time.
So, that's what I created!
In May, 2022, I published this app on the web at https://CollegeOverlook.com and it's free for all to use with no account required.  Just jump right in and immediately start finding colleges near you… or colleges far away, or in any US locations that may feel right for you.
PS – The map can also be configured to check for colleges offering Associates Degrees.