The Supreme Court of the United States just after 10:00 a.m. today, June 29, 2023, ruled that affirmative action, as practiced by selective colleges and universities in their admissions processes, is no longer lawful.
Click here to read the full opinion of the court, concurring opinions, and dissent(s).
Ultimately, the majority opinion, written by Chief Justice John Roberts, today found that Harvard considered the race of applicants multiple times in their review of applicants, while UNC was interested in racial balancing of its student population to reflect the racial demographics of North Carolina generally. Interestingly, Students for Fair Admissions argued that diversity could be considered a compelling state interest. Yet, Chief Justice Roberts, in his majority opinion, argues that the entire concept of diversity as presented by Harvard and UNC is incoherent and unmeasurable.
Several sentences from the majority opinion seem to be the most relevant regarding how selective colleges will move forward:
"At the same time, as all parties agree, nothing in this opinion should be construed as prohibiting universities from considering an applicant's discussion of how race affected his or her life, be it through discrimination, inspiration, or otherwise. See, e.g., 4 App. in No. 21–707, at 1725–1726, 1741; Tr. of Oral Arg. in No. 20–1199, at 10. But, despite the dissent's assertion to the contrary, universities may not simply establish through application essays or other means the regime we hold unlawful today. (A dissenting opinion is generally not the best source of legal advice on how to comply with the majority opinion.) "[W]hat cannot be done directly cannot be done indirectly. The Constitution deals with substance, not shadows," and the prohibition against racial discrimination is "levelled at the thing, not the name." Cummings v. Missouri, 4 Wall. 277, 325 (1867). A benefit to a student who overcame racial discrimination, for example, must be tied to that student's courage and determination. Or a benefit to a student whose heritage or culture motivated him or her to assume a leadership role or attain a particular goal must be tied to that student's unique ability to contribute to the university. In other words, the student must be treated based on his or her experiences as an individual—not on the basis of race. Many universities have for too long done just the opposite. And in doing so, they have concluded, wrongly, that the touchstone of an individual's identity is not challenges bested, skills built, or lessons learned but the color of their skin. Our constitutional history does not tolerate that choice."
Moving forward, it is very likely that legacy admissions will be terminated at many selective colleges as soon as the 2023-2024 admissions cycle. College leaders will want to do everything they can to be seen as advocating for diversity and getting rid of legacy admissions is one of the easiest ways to do so; however, the results of such a move may ultimately benefit Asian and White applicants far more than Black and Hispanic students if selective colleges adhere to the law/Supreme Court majority opinion and refrain from considering race when making their admissions decisions if applicant pools to these colleges and universities remain similar to what they are today.
Meanwhile, this section of the majority opinion not only goes for the jugular against affirmative action as currently practiced by selective colleges and universities, but also the entire DEI superstructure of these institutions: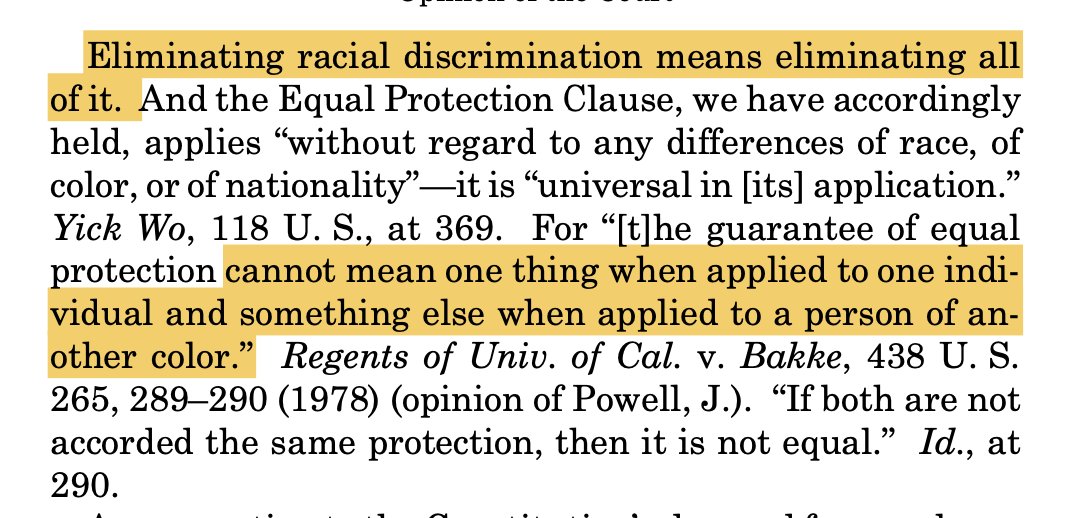 Watch below for live-streamed details and analysis as it happened on June 29, 2023: