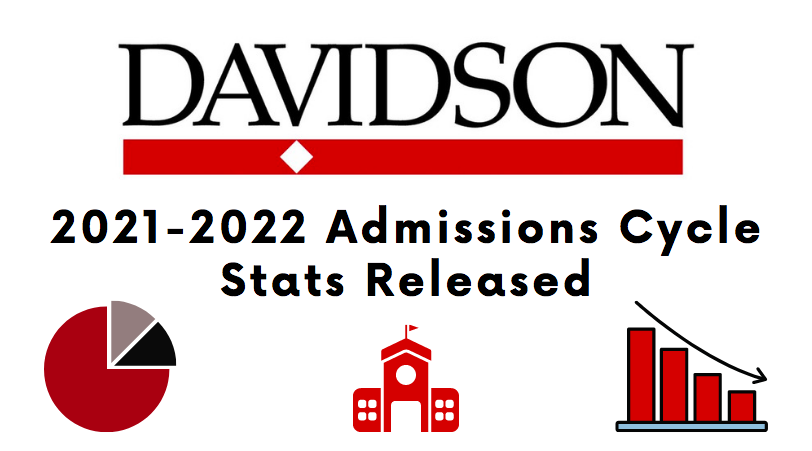 Davidson University in North Carolina has shared its 2021-2022 admissions cycle statistics, which reveal the small and selective school will remain just as small as ever while becoming slightly more selective. Davidson has the goal of enrolling 530 first-year students for the fall 2022 semester.
Of an overall 6,487 students who applied to Davidson this year, only 1,090 were accepted, 335 of which were accepted through Early Decision 1, Early Decision 2, athletic recruitment, or partnerships with access organizations such as QuestBridge and POSSE. This overall 16.8 percent acceptance rate during the 2021-2022 cycle compares to a 17.1 percent acceptance rate during the 2020-2021 cycle and a 19.5 percent acceptance rate during the 2019-2020 cycle, which was the last time Davidson required all applicants submit their SAT or ACT scores. This cycle only 48 percent of students submitted their test scores though no stats were provided on what percentage of admitted students submitted their test scores this time around. Davidson committed a test-optional policy as a three-year pilot; therefore, it will continue for one more cycle as the university tracks and analyzes data related to test-optional admissions and student performance.
Other statistics shared include that of admitted students, 12 percent will be the first in their family to attend college; 29 percent are domestic students of color; and 10 percent are international students/non-US citizens.
Regular Decision notifications were released on March 26, 2022, and students have until May 1 to deposit.
| Davidson University Admissions Stats | c/o 2024 | c/o 2025 | c/o 2026 |
| --- | --- | --- | --- |
| Total First-Year Applicants | 5,615 | 6,422 | 6,487 |
| Total Admitted (not including wait list) | 1,096 | 1,101 | 1,090 |
| Admitted through ED1/ED2/Athletics/Partnerships | 289 | 326 | 335 |
| Defers from prior year | 5 | 13 | 9 |
| Percent reviewed with Test Scores | 100% | 50% | 48% |
| First Generation Students (admitted) | 99 | 123 | 132 |
| International Students/Non-US Citizens (admitted) | 88 | 83 | 105 |
| Domestic Students of Color (admitted) | 305 | 344 | 319 |